DEAN JOHNSON: DYLAN AT THE GASLIGHT CAFE ON 19 MAY 2018
Dean's solo shows are becoming a regular feature of the Arts Centre calendar. Following on from the success of 'Acoustic Harvest: a Tribute to Neil Young' back in February, another expectant sell-out audience awaited on a beautiful spring evening. A Gaslight Cafe sign greeted people at the entrance and there was a faint shimmer of magic in the air. 
It was an inspired concept: in the first half playing songs that Dylan sang in Greenwich Village's Gaslight Cafe in the early 1960s, a time in which he was steeped in the alternative folk scene and only just beginning to develop his songwriting. As well as the now well-known Hard Rain and Don't Think Twice, we heard arrangements of traditional songs such as Moonshiner, Handsome Molly, Cocaine and Barbara Allen. The bonus classic track of Baby, Let Me Follow You Down was much appreciated. The second set involved a round up of some of Dean's favourite Dylan tunes which included a fair few classics. This material was treated with the respect it deserved; in most cases played no-frills and fairly true to the original, although Al Peterson's harmonica helped out on a few. 
Dean's fine voice was well suited to the task, covering the interesting mix of styles that Dylan absorbed, from blues to country. The audience clearly loved the opportunity to hear this work performed in such an intimate setting, allowing the words to be savoured. And Dean's self-deprecating banter was perfect for the occasion and built up a great rapport. We even got treated to a Dylan impression. The highlight of the evening for me was a rousing Tambourne Man. Rumour has it that a Nick Drake evening is in the offing. Perhaps even a John Martyn evening. Stay tuned.
Review by Tom Hutchinson
Founding member of Wirral's underground jazz collective
ON NEIL YOUNG'S BEACH
There has been a rapturous response to Dean's recent multi- media meditation on Neil Young's seminal 'On The Beach' album, with songs from the record sung by Dean, illustrated with spoken word from Gavin Martin and Guy Haslam.
A glowing in-depth review was posted, and the performance was picked up on in the US by Thrasher's Wheat, the Neil Young news feed sanctioned by Young himself.
http://neilyoungnews.thrasherswheat.org/2018/05/an-evening-of-neil-young-scholarship.html?m=1
https://www.facebook.com/WestKirbyArtsCentre/posts/1231670493603415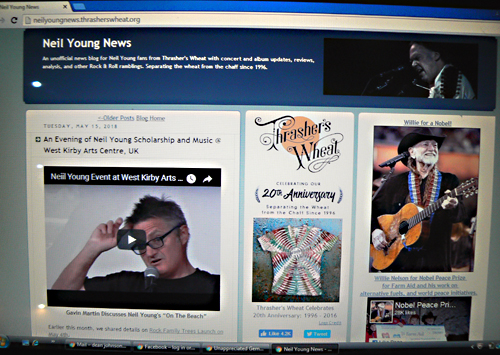 DEAN AND GAVIN MARTIN
Dean will present a rare viewing outside of London of artist Pete Frame's legendary 'Rock Family Trees' posters, many of them the originals signed by Pete himself. They tell the story of the birth of The Beatles and Merseybeat and on to the punk era of Eric's Club.
The exhibition will be opened by Ireland's greatest rock critic Gavin Martin. Gavin published the iconic 'Alternative Ulster' fanzine in 1977. He went on to become the NME's featured writer: interviewing the likes of Marvin Gaye, Nina Simone, Willie Nelson, Van Morrison (pictured), Pete Townshend, The Sex Pistols, The Clash and Neil Young. He is currently the Daily Mirror's weekly music reviewer.
Celebrating West Kirby's coastal location, Gavin will present a spoken word piece based on Neil Young's seminal 'On The Beach' album, whilst Dean Johnson will perform key songs from the classic album. news of the event was shared on Young's authorised news site.

West Kirby Arts Centre
29 Brookfield Gardens, West Kirby, Wirral, CH48 4EL
https://westkirbyartscentre.org.uk/events/-Rock-Family-trees-launch